Sample The Songs

Sample the Coloring Book

Order Now!

About Pete Smith

Contact
Fire Safety Music CD
(& Colorling Book)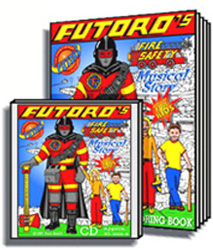 Fire Safety Songs
& Story
Best suited for grades Pre K-4 through 1st Grade, the Futoro music CD introduces children to six basic fire safety concepts in one exciting Musical Story! The songs & story are about:
"Stop, Drop, & Roll"
"Have A Meeting Place"
"Crawl Under Smoke"
"Have Two Ways Out"
"Matches Are Tools, Not Toys"
"Smoke Detectors Save Lives"
You know how much your children love Superheros... and Fire Fighters too! That's Futoro! The Firefighter from the Future! Armed with his magical, musical ax, Futoro's pop/rock songs and story will teach your children the basics of Fire Safety in a FUN and EFFECTIVE manner.